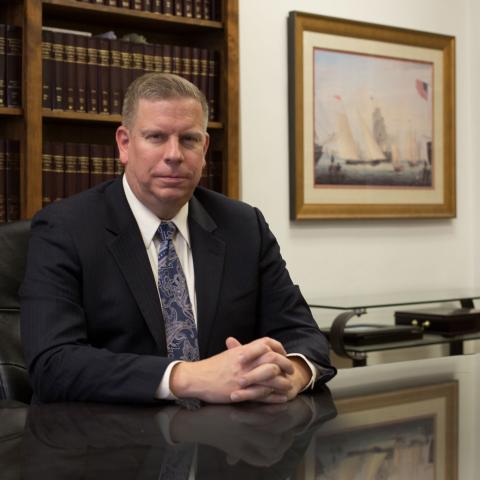 Of Counsel
Education: University of Notre Dame Law School, Notre Dame, Indiana (JD); University of Notre Dame, Notre Dame, Indiana (BA)
Admitted to California and Federal Bars, 1997; Licensed in California, Colorado, Illinois and Indiana.
Practice: Mr. Webb has almost a quarter century of experience in commercial litigation and arbitration involving commercial, construction, environmental, securities, professional malpractice, insurance coverage, insurance defense, products liability, probate litigation, labor and employment law, uninsured motorist coverage and personal injury.  He has extensive trial experience representing plaintiffs and defendants, including being lead trial counsel in many civil litigation cases.   William also advises businesses in transactional matters (e.g. contracts, entity formation, intellectual property, real estate, and commercial lending).
Mr. Webb has appellate experience, including oral argument before the Seventh Circuit and California Court of Appeals, including numerous published opinions: Skorup v. Modern Door Corp., 153 F.3d 512 (7th Cir. 1998); Kantz v. Elkhart County Highway Department, 701 N.E.2d 608 (Ind.Ct.App. 1998), trans. den.; Hoover v. Hearth & Home Design, 654 N.E.2d 744 (Ind. 1995); Plummer v. Board of Commissioners of St. Joseph County, 653 N.E.2d 519 (Ind.Ct.App. 1995), trans. den.; Prange v. Martin, 629 N.E.2d 915 (Ind.Ct.App. 1994), reh. den., trans. den.; Weldy v. Kline, 616 N.E.2d 398 (Ind.Ct.App. 1993).
Mr. Webb also teaches trial advocacy through the National Institute for Trial Advocacy and has done so since the 1990's.  Other honors include:
Adjunct Professor of Law, Uniform Commercial Code, Moot Court, San Francisco Law School 2004 -- 2009.
Administrative Editor, Journal of Legislation,The International Legal Aspects of the Lithuanian Secession, 17 Journal of Legislation 309